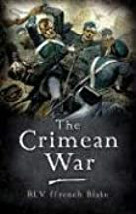 En läsecirkel för Militärsällskapets ledamöter om de två senaste seklernas krigföring i området mellan Wien och Moskva. Detta är den första av tre timslånga väl strukturerade träffar följt av friare diskussion av respektive bok under lunch och kaffe.
Anmälan här gäller alla tre tillfällen.
Första träffen: The Crimean War – Colonel Val ffrench Blake
Hardback: 178 pages
Publisher: Pen and Sword 2006
Language: English
ISBN: 1844154491
When this book was first published in 1971 the opening paragraph of the blurb read: 'You could fill a library with books about the Crimean War, and that, paradoxically, is why this book has been written. For in this library you would find exhaustive histories, some reaching to several volumes; you would find biographies, commentaries, diaries and treatises written from this angle and from that ' but you would not find a single concise volume, a straightforward and objective account of the war covering the peripheral theatres as well as the Crimean itself, giving all the fundamental facts, yet pleading no special cause. This book aims to fill that gap.
Now, over thirty years later, that remains substantially true.
På de följande träffarna avhandlas dessa böcker:
Andra träffen: The Eastern Front 1914-1917 – Professor Norman Stone
348 pages, Paperback
First published January 1, 1975
Norman Stone was a Scottish historian and author, who was a Professor in the Department of International Relations at Bilkent University, Ankara. He is a former Professor at the University of Oxford, Lecturer at the University of Cambridge, and adviser to Prime Minister Margaret Thatcher.
Tredje träffen: Peacemakers: Six months that changed the world – Professor Margaret Macmillan.
Without question, Margaret MacMillan's Paris 1919 is the most honest and engaging history ever written about those fateful months after World War I when the maps of Europe were redrawn. Brimming with lucid analysis, elegant character sketches, and geopolitical pathos, it is essential reading.
Winner of the Samuel Johnson Prize, the PEN Hessell Tiltman Prize and the Duff Cooper Prize.
Bokningar
Har du redan ett konto med oss?
Logga in
Har du konto sedan tidigare?